Tree Planting at A+G
Working at A+G means that you are determined and motivated. You are trained beyond the standard requirements. You work hard in the field with a team of qualified planters, seasoned project managers, supervisors and owners. You continually demonstrate your work ethic, your grit and your stamina. You build your skills, your output and your earnings.
Qualifications
To work as a tree planter at A+G you need to check off all the items on this list:
You can legally work in Canada


You must be able to legally work in Canada with a valid SIN or current work visa

You are healthy and physically fit


Tree planting is extremely strenuous and requires that you be in excellent health and good physical shape to be successful

You are available for all of May and June

You plan to plant for more than one season


Becoming an efficient and productive planter takes time and practice. Your first year is an investment. It's only worth planting if you plan to work for multiple seasons.

You are mentally prepared for the challenge of outdoor work in all weather conditions and mountain environments


You are willing to live and work together with a diverse group of people in remote settings
Optional Qualifications
Here are some additional qualifications you might have (but that aren't required):
Level 3 Occupational First Aid (OFA) or WorkSafe BC Approved Equivalent

OFA 1 + Transportation Endorsement or WorkSafe BC Approved Equivalent

WFCA or other Driver/Crew Vehicle Operator Training

ATV Operator Training

Power Saw Operator Training

Danger Tree Assessment Training

Silviculture Crew Boss or Forestry Supervisor Training

Resource Road Truck Driving - RD-03
Your Success
Your success as a tree planter depends on three primary things.
You need to work smart
Hard work alone won't make you a great tree planter - you need to focus on results and efficiency. When you do both of these things you can unlock your full potential and maximize your earnings.
You need to be respectful
We live and work together during a short and intense season. You need to be respectful to your colleagues, supervisors, and clients. We expect our employees to treat each other with respect at all times.
You need to be adaptable
We see a lot of variety in our work. Whether it's planting on steep cable-logged blocks or flat trench ground, the variety of terrain and planting specifications you'll encounter require versatility and adaptability.
Your Potential
Earnings
You are paid per-tree so that you get paid directly for your efforts. If you are dedicated, motivated and hardworking then you'll make more money.
Your managers and supervisors focus on full days and work hard to maximize your production potential for the season. Our crew leaders are exclusively non-commission to help foster a fair working environment.
Payment and Expenses
Payroll is processed every two-weeks. Quoted tree prices include vacation and holiday pay. Every two weeks you will receive a formal pay-stub detailing your planted trees, rates, taxes, vacation and holiday pay. All payroll is via direct deposit.
You will be required to pay for certain expenses. These include travel costs to get to the project location, and to leave - at the start and end of a contract. Your personal gear (clothing, planting tools, camp equipment if required, etc) are covered by you. If you're staying at an A+G camp, you'll need to find your own food on days off. If you're required to stay at a motel, you will have to cover all of your food costs on work days and days off.
Earning Stats from 2021 Spring Season
$901.80*
Most earned in a single day
$549.19*
Top 3 planter daily average
40-55
Average planting days per season
55% / 45%
Average percentage male / female
4 million
Average trees planted each season since 2015
* THESE NUMBERS DO NOT INCLUDE THE BENEFIT OF FREE CAMP COST.
Average daily earnings by experience
$248.26
First Year Planter (no previous experience)
$336.22
Planters with 1-2 seasons experience
$375.36
Planters with 3 seasons experience
$411.07
Planters with 4+ seasons experience
Daily earnings include first and last planting day, partial days due to illness, injury and mental health, etc.
Your Path
After your first successful season of planting at A+G, there are more opportunities for you. We value returning employees who have demonstrated their capabilities, and who bring familiarity with A+G's operations and culture.
Apply as an Experienced Planter
If you return to plant the following season, you'll enjoy having - and building on - a higher level of experience including your planting technique and efficiency. This equals a higher potential income for your second season.
Gain More Skills and Responsibilities
There are also opportunities for those who want more responsibility such as drivers, first aid attendants, power saw operators, and ATV operators.
Become a Contract Wildland Firefighter
A+G will recruit planters for fire crews. There is often an information session available around June, for those planters interested in the work. A+G firefighters are contracted by the Ministry on an 'as-needed' basis. So there is no guarantee you will fight fires, but if there is a demand and you meet the requirements, we will do our best to get you on a crew. Learn More...
Become a Crew Leader
Crew Leader supervisory positions require planting or fire experience, an OFA 1+TE, S100, driver and DTA training. Tree planting crew leaders must have at least a few seasons of planting experience. Often, we will require applicants to have planted with A+G before taking a Crew Leader position. Fire Crew Bosses are trained once they have acquired a certain amount of experience on the firelines. Learn More...
Your Schedule
The planting season at A+G usually starts in early May, but earlier work sometimes begins in April. The season usually ends in late June or early July. Summer trees generally run through the month of July.
Typically, you are assigned to a crew at the time of hire. We aim to confirm start dates and accommodation details 2 weeks ahead of the planned start date. The planting season is tied to the Spring weather and snow melt, so we set tentative start dates in the winter, but these frequently change due to the weather conditions. We start planting once the snow has melted and the ground has thawed.
Your shifts will typically follow a 3:1 schedule with 2 consecutive days off around mid season (or after 30 days at a maximum). An average day on the block lasts 9 hours. Typically we leave project bases (motel or camp) at 0700h and leave the block at 1700h. Drive times to the worksite can range widely from 20 minutes to 1.5 hours or more and can vary depending on which project you are working on.
Your Camp and Equipment
We're told our Princeton camp is pretty sweet. It's not the life of luxury, but it has everything you need for a great work experience, including: amazing food and cooks, a mess tent with a wood stove, 2 dry tents with wood stoves, out-house toilets, and sinks and showers with unlimited hot water! You share the communal spaces like the mess tent, the showers and washroom facilities, while keeping your personal space in the way of a tent, or a hammock for the more unencumbered types. Temperatures can drop below 0ºC at night (and during the day), or weather can bring rain for days - so a tent is recommended for keeping you and your gear dry.
Our camp size ranges from 30-60 planters and we don't move camp during the season. Many of our project bases are close to towns so you can take advantage of amenities on your days off.
Camp cooks provide 3 meals a day for you on your working days. On your days off, you'll supply your own food, but can have access to the cooking equipment at the camp if you want it. The kitchen staff can accommodate vegetarian diets if they know in advance. Other dietary restrictions must be discussed at time of hire, so that we can confirm the ability to accommodate with the Kitchen Staff. If the specific restrictions/allergies can't be accommodated, there may be options to work on a motel-based crew.
When assigned to a project that won't have a bush camp, you'll be put up in a motel and you will be responsible for providing your own food.
The nature of your assignment will have all of the details you need to pack your personal equipment. And once you're sure you've covered the need-to-haves, you can see if there's still room for that guitar, or penny flute, or karaoke machine.
At any rate, a list of mandatory equipment will be provided to all crew members within a month of the project start date. Planters will be responsible for showing up with all of the required gear on the first day of work.
Your Training
All A+G staff receive an orientation and training prior to starting work. Training for planters starts on the first day of the project at the assigned project base location. You'll be trained on the operational specifics of the contract, as well as for the special jobs you're assigned.
As a rookie, you'll get an initial five days of on-the-job training. Experienced planters will get a half-day of training on the first day of their project. We provide job-specific training for drivers, ATV operators, first aid attendants, power saw operators, and firefighters. We encourage our applicants to seek out training for these skills in advance of applying for these positions.
Your Location
Most of our work is in the Southern Interior of BC. Project bases change depending on the location of work - but generally we have crews around Princeton and Kamloops. Accommodation details and directions to project base locations are sent out via emails to staff within a month of the first day of work.
A Letter from Chris
"Tree planting is a job unlike any other in our country. Working in the remote forests of BC is one of the last truly pioneering experiences available in North America. Employees are paid by piecework, so the hardest working, most productive people can really be successful. The work environment can be rugged but the scenery and landscapes are among the most beautiful in the world.
The piecework system and the tough working conditions attract a particular brand of person. That person enjoys a physical challenge, seeks adventure, has the mental strength to push themselves, and finds regular employment dull. The unique conditions foster a special sense of camaraderie and friendship. Planters are always interesting people each with a different story to tell.
There is nothing quite like the satisfied feeling at the end of a tough day's work, physically tired but proud of one's accomplishment in planting forests for the future. It is hard to find any other employment that offers the same daily feeling of accomplishment. For many, it is the lure of the woods, the friendships, and the hard work that draw them back to A+G Reforestation year after year."
– Chris Akehurst, Owner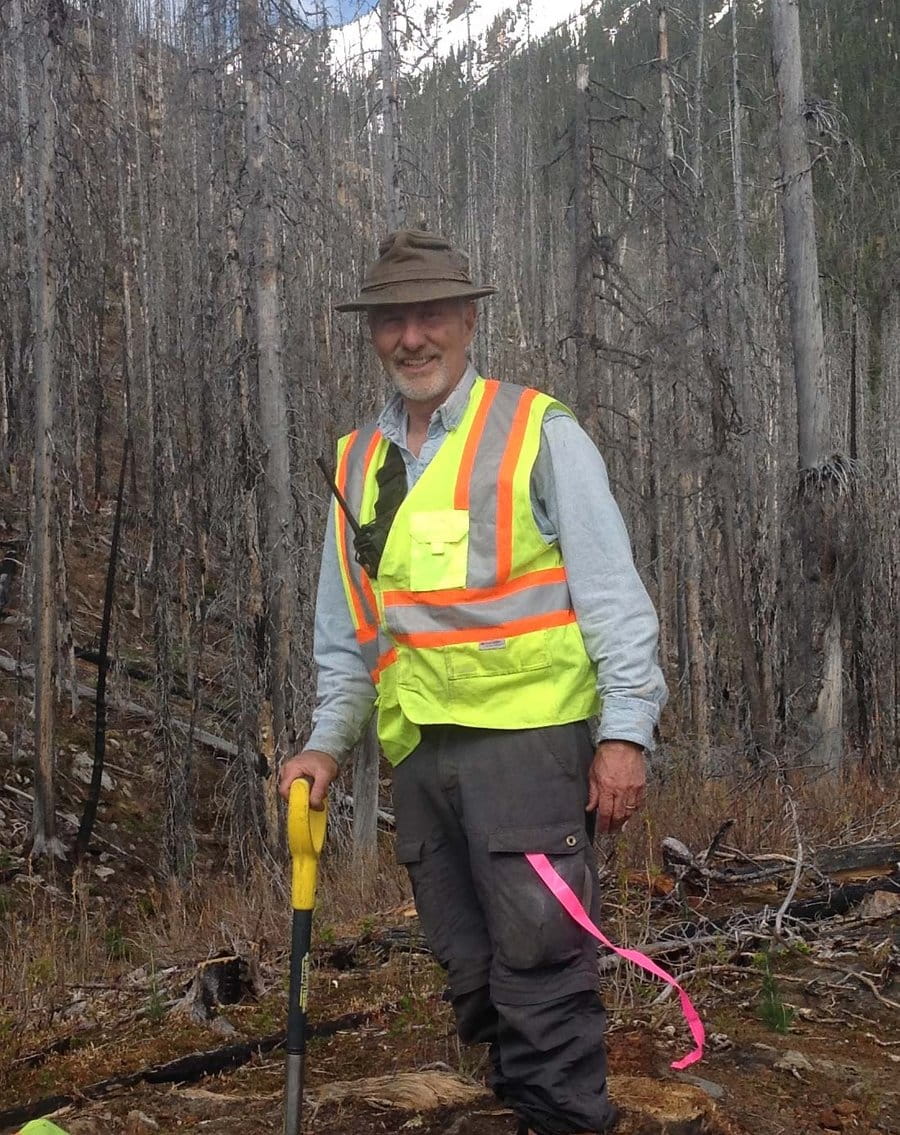 FAQs About Applying
Do you charge camp costs?
No. There is movement in the industry to remove camp costs. A+G is supportive of the removal of camp costs across the industry. So, we (A+G) are removing camp and motel costs starting in 2019. These costs do not include the cost of food in motels, or the cost of food on days off in camp. We think this is an important step forward for our industry, and for all silviculture workers.

Do you allow dogs?
Yes. Dogs are permitted on the block but this is project dependent. If you travel with a dog, please get in touch with us to let us know.
Is vacation and holiday pay included in the tree price?
Yes, tree prices quoted by your crew leader will include vacation and holiday pay.
How much money can I make?
Average daily earnings for experienced planters is typically $ 350 or greater. Rookies typically average $ 200/day. Top producers typically average $ 500/day or greater. An experienced planter can potentially earn upwards of $ 20,000 over a 40-50 day season. In addition to these values is the amount saved by not paying camp or motel costs.
How long is your average spring planting season?
On average, 50-55 production days. That said, A+G planters have always been successful in finding more work over the summer for an extended season.
I have dietary restrictions. Can this be accommodated in camp?
We can accommodate vegetarians in camp. Due to the remote nature of bush camp, other dietary restrictions must be discussed at time of hire, so that we can confirm the ability to accommodate with the Kitchen Staff. If the specific restrictions/allergies can't be accommodated, there may be options to work on a motel-based crew.
Do I have to bring my own cutlery and dishes for eating?
We do provide an assortment of cutlery, cups and dishes to staff for use during meals in the mess-tent. However, you are more than welcome to bring your own. Just make sure to label your personal stuff!
For your lunches, we strongly encourage staff to bring reusable lunch containers. We are moving away from single use plastics so we will not be providing plastic sandwich bags or other containers for planter use.
What is the best time to apply to A+G for a planter?
We accept applications all year round. We encourage everyone to apply early because our crews fill up quickly. We begin confirming hires for the Spring season in October. Crews are usually filled up and confirmed by January.
How do I know if there is work available?
Call us, or send an email. We'd be happy to hear from you and talk about what you can bring to the team.
Can I request a specific project location?
Yes you can. We do our best to accommodate, but we will shift crews around as needed to maximize productivity.
Can I ask to buddy up with a friend on a project?
You can. We do our best - but remember that each applicant must be hired independently.
Is there a waiting list?
Yes. Our crews fill up early, but we do keep a waiting list of applicants that would like to work with us.
What's the best way to apply?
Apply directly to A+G Reforestation by clicking 'Apply Now' in the menu bar.
Have more questions?
Give us a call, email or text. We'd be happy to hear from you and chat about our projects!